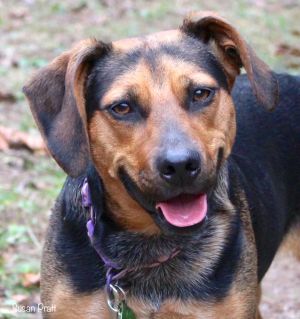 Australian Cattle Dog / Blue Heeler, Beagle
Spayed/Neutered
Up-to-date with routine shots
Bella came to me right after her spay, and she was a quiet sweet girl, she didn't eat much and didn't feel good. She has blossomed into the sweetest girl as she has recovered. She gets along with other dogs, not sure about cats ... she may chase but I think if she got to know one she would be fine. She likes to run in the yard and smell everything, but she really wants to snuggle with her person. She is house/crate trained and has her own blanket. She loves belly rubs and seems to like riding in the car. She is eating well now and is a very happy girl. Bella is a sweet, sweet girl who likes everyone, and she deserves a home with people who love her just as much as she loves them. Bella has been dewormed, microchipped, tested for heartworm and is on preventive, spayed, and has received the Distemper-Parvo combination vaccine, Kennel Cough vaccine and Rabies vaccine. For more information, please call the Bedford Humane Society at 540-586-6100, or go to www.bhsva.org/adoptions-home.htm to fill out an adoption application.
Adult, Female, Medium